Air Purity Analysis from SUTO
By keeping the compressed air or gas to a particular ISO 8573 purity standard, compressed air purity is vital in ensuring plant operating compliance and efficiency. SUTO Compressed air for breathing regulators falls under the EN 12021 standard and requires not only contaminants to be measured but also gases to ensure that the air is safe to breathe.
Breathing air testers allow the user to monitor:
Oxygen (O2)

Carbon Monoxide (CO)

Carbon Dioxide (CO2) with dew point/humidity and oil or VOC contents
SUTO Dew Point Sensors
Dew Point is the lowest temperature that allows water vapour to remain in a gas without condensing to a liquid state. Water droplets will start to form when the air or gas temperature drops below its dew point temperature, where it becomes completely saturated.
In pressurised systems such as compressed air distribution networks, the dew point is directly related to the temperature AND system pressure. As pressure increases, the dew point temperature also rises meaning that the potential for vapour to condense out occurs at a higher temperature. In practice this can mean that instead of the condensing temperature being quite low, the dew point could be at or above ambient temperature.
SUTO Displays & Dataloggers
SUTO displays connect to a wide range of analogue and digital sensor inputs, and are essential for local or remote indication of measured process variables for users. SUTO displays & dataloggers could include onboard graphical displays and data logging facilities.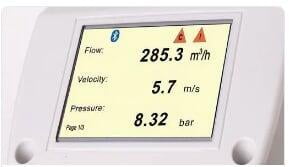 SUTO Flow Measurement
Control of industrial processes and billing of delivered gases and liquids are crucial variables when measuring flow and consumption. SUTO offer many different technologies when measuring flow:

Thermal Mass for dry gases

Pitot tube for wet air or gas

Variable area for gases

Ultrasonic for liquids