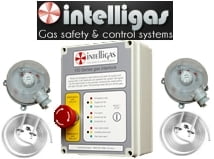 Gas Interlock Panel + 2x Air Pressure Sensors (APSx2)
Gas Interlock Panel. 100 Series.2x Air Pressure Switches and Kits.
2 Year Guarantee
** Contact us for stock availability with your combination of panel and accessories **
Intelligas 100 Series Gas Interlock PLUS 2x Air Pressure Sensors. 2 Year Guarantee

The Intelligas 100 series is the simplest, most economical system that we offer. It meets the requirements of BS 6173, and it's easy to install - even if you're not technically qualified. It's carefully designed and clearly labelled, and if you're having problems our 24-hour helpline is moments away.
Key Features
Solid state circuitry, no relays or components to go wrong, and supplied complete with air pressure switches
Full fan and gas valve status indication, with an easy wipe clean fascia
On board emergency stop button (that doubles as a system on / off switch)
All connections on front panel, leaving the complete enclosure for cable entry, with clearly-marked terminals for easy installation
Fire alarm interlock
Up to 2 additional emergency stop buttons can be connected directly to the PCB
2 year guarantee
Installation
The telephone technical service - provided without charge to Intelligas customers - will help you install your new system. Our staff are also able to supply technical advice, where possible, on any electrical system in your kitchen. Many existing customers have benefited enormously from our technical expertise, and we've fielded calls about the connection of fan speed controllers, invertors and other systems. We're here to help you maintain a safe and compliant kitchen.
Guarantee
Don't forget that your purchase is fully backed by our guarantee. Firstly, if you're unhappy with the system you can return it within 14 days for a full refund - no questions asked. If you're happy with the system, it is covered for 2 years against faulty parts or workmanship